Georg Jensen – Modern Danish Silversmith
Danish Silversmith Georg Jensen was heavily influenced by the art nouveau movement and inspired by nature, which is in clear evidence across his work. The most common Jensen pattern is 'Acorn' (or KONGE), with much of his flatware adorned with floral motifs, while other botanical influences can been seen across his collections.
Outside of the botanicas, collections are based on showcasing craftsmanship in its purest form rather than borrowing elements of nature, these include 'Beaded' and 'Rope', while 'Continental' is believed to be based on the form of traditional Nordic wooden utensils.
Today, the Georg Jensen company continues to thrive and at Gorringe's, as well as antique pieces, we often auction more contemporary Georg Jensen lots too.
About Georg Jensen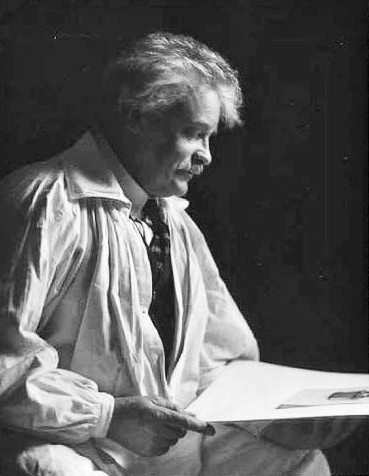 Georg Jensen by Knudstrup Andresen
Georg Jensen was born in 1866 in Raadvad, just to the north of Copenhagen.
The son of a knife grinder, Jensen began his training in goldsmithing in Copenhagen, at age 14, taking his apprenticeship with the firm, Guldsmed Andersen. His apprenticeship concluded in 1884, allow a young Georg to follow his interest in sculpture.
Following his apprentice Georg studied at the Royal Academy of Fine Arts, graduating in 1892 where he was then able to begin exhibiting his work.
Making a living as a fine artist proved difficult and, whilst his clay sculptures were well received, he still needed to turn his hand to applied arts to get by. This came in the form of working at the Bing & Grøndahl porcelain factory and in 1898 he founded a small pottery workshop with Christian Petersen.
As with his clay sculptures, acclaim alone was not sufficient to support Jensen and his two small sons, especially after his wife had sadly died suddenly from a kidney disease.
In 1901, he abandoned ceramics and began again as a silversmith and designer with the master, Mogens Ballin. Finally, in the Spring of 1904, Jensen decided to go out on his own, risking what small capital he had to open his own little Silversmithy, in a tiny room at 36 Bredgade in Copenhagen.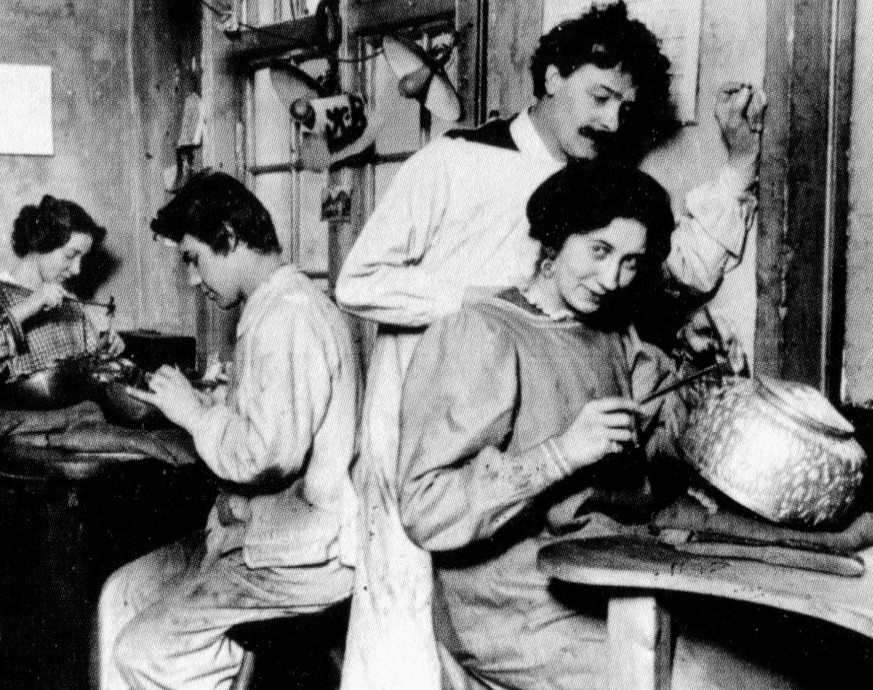 Georg Jensen Alba Lykke
Jensen felt constant economic considerations reined in his creativity and in 1925 he decided to leave the Silversmithy and move to Paris with his fourth wife and children. Money was again a problem and, unable to support his family, his stay in Paris was cut short in 1926, as he returned to Copenhagen to resume his position as artistic director at the Silversmithy.
The last ten years of Jensen's life (1925 - 1935) were said to be full of bitterness and disappointment, with Jensen working mainly at a small workshop in his home, only visiting the Silversmithy when his presence was absolutely necessary.
Jensen's training in metalsmithing along with his education in the fine arts allowed him to combine the two disciplines and revive the tradition of the artist craftsman.
Collecting Georg Jensen:
We regularly have lots by this popular designer - you will find many examples in past sales: https://www.gorringes.co.uk/search/lots/Georg%20Jensen. We also have two superb examples coming up in our October fine sale:
Lot 769 - Georg Jensen planished sterling silver pedestal bowl, design no. 197B, with 'leaf and berry' openwork stem, height 11.2cm £250-£350
Lot 779 - A Georg Jensen planished silver sugar bowl with everted rim on pierced foliate pedestal and circular foot and a matching spoon, 7oz £300-£400