Upcoming Auction
October 03 2023 | 10.00am
Autumn Fine Auction Catalogue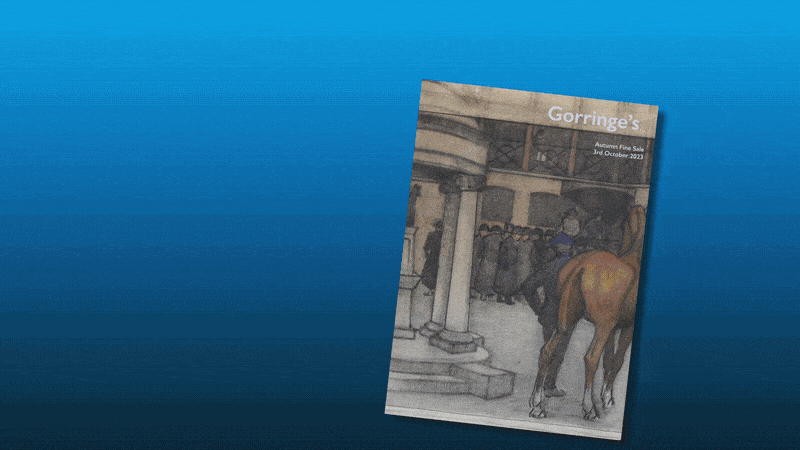 Autumn Fine Auction October 2023
Clifford's Sale Preview Video for the Autumn Fine Auction
Auction Preview
The Autumn sale has a slightly different look from previous auctions. We now hold specialist sales of weapons, scientific, music, coins, toys, vinyl and lux. As a result, you'll no longer see items from these categories appearing in the quarterly fine sales.
That still leaves plenty to enjoy.
Miscellanea
A modest offering of miscellanea includes two remarkable albums from the days of the Raj (Lots 1 & 2), celebrating the Delhi Durbar and a Tour of Kathiawar circa 1910-1911, one with a presentation inscription from the legendary cricketer Ranjitsinhji.
Further on is an Edwardian oak smoker's box, modelled as a sentry box and inset with a watercolour by the renowned military artist Richard Simkin (Lot 11).
Head past a selection of Art Deco and other bronzes to find a distinctive group of ceramic figures by Charles Vyse (Lots 33-37) and studio ceramics by Dame Lucie Rie (Lots 38-40).
Asian Art
The offering of Asian art includes a number of pieces of furniture with a splendid dressing table and a similar longcase clock inlaid in mother of pearl to an extraordinary level of detail (Lots 116-117).
Fine Art
A broad selection of furniture comes before a picture section strong in portraits and modern British works.
The mostly Georgian portraits include a rare work by Raja Jivan Ram (Lot 212), an Indian painter who specialised in taking the likeness of British army officers.
In addition a handsome pair of pastels, again of a military sitter attributed to John Russell (Lot 215).
Philip has been working on a collection of original prints by James Gillray (Lots 229-257), the images poke fun at all levels of Georgian society and offer both an amusing and educational view of late 18th-century England.
Modern British pictures include three early works by Mary Fedden (Lots 348-350) and portraits by Kyffin Williams (Lot 362) and Christopher Nevinson (Lot 315).
Including a fine view by Lamorna Birch (lot 308) and as ever a good selection by D'Oyly John (Lots 331-341).
Silver
The silver sale has a good model of Lord Baden Powell, mounted on horseback (Lot 398) and an array of Victorian tea sets and tankards.
Watches
Watches from classic makes including Rolex, Cartier and Jaeger as well as an early pocket watch by Thomas Tompion and Edward Banger (Lot 420).
Jewellery
Jewellery offers gems from the 18th century up to the 21st with a Royal presentation locket (Lot 449), a pair of fancy yellow diamond ear studs by Graf (Lot 505) and ending with an exceptional Cartier enamelled timepiece (Lot 512).
Do try to attend one of the viewing days. They run from Friday the 29th of September, Saturday the 30th of September and Monday the 2nd of October.
You'll be able to view the Lux Auction at the same time as well as the weekly House and Gardens sale, in total over a thousand lots, all being sold over two days at Gorringe's.
Auction Information
Viewing on:
Friday: 9:00 AM -5:00 PM
Saturday: 9:00 AM -1:00 PM
Monday: 9:00 AM - 5.00 PM
Tuesday: 9:00 AM - 10.00 AM
The auction will start at 10.00 AM