History of Royal Doulton
Royal Doulton was originally established in 1815, as a partnership between John Watts and Martha Jones - when Doulton used his life savings of £100 to buy a share of premises at a factory in Lambeth, London - creating the Doulton & Watts Pottery.

Initially, Royal Doulton specialised in the production of ceramic stoneware, salt-glaze and stone bottles, jars and flasks. The company diversified further - when, in 1835, Henry Doulton joined the business and was the driving force behind the 'sanitary revolution' - leading the way in stoneware for use in water filters and drain pipes - much to the improvement of everyday life.
Henry Doulton was a true innovator - his engineering expertise making Doulton & Watts the pioneers of pipe and stoneware manufacture, with their works being showcased at the 1851 'Great Exhibition' held in Hyde Park.
In 1854, the business became known as Doulton & Company, following the retirement of John Watts. The company changed further still in 1860, when John Sparkes - a good friend of Henry Doulton - persuaded him of the advantages of working students of Lambeth School of Art (next door to the factory).
That move to involve up and coming talent resulted in a long and prosperous collaboration - with the employment of many of the art school's graduates - including Hannah Barlow (who was later joined at Doulton by her sister, Florence) and George Tinworth, whose delicate and brightly coloured designs helped bring Doulton & Company into the modern era, attracting international interest.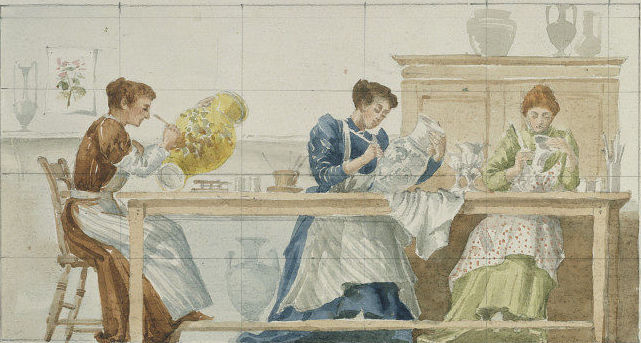 The sisters, plus another, painting in the Doulton studio, c. 1893. Probably Florence at right and Hannah centre. By William Rowe, painted c. 1893. V&A Museum E.923-2002 / Public domain.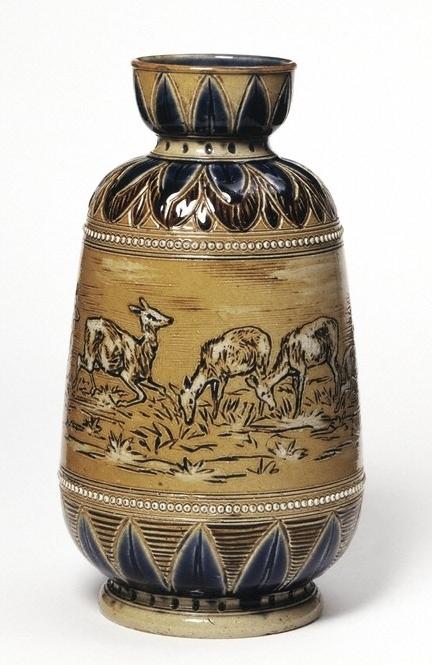 Incised and painted Doulton vase by Hannah Barlow, now in the V&A Museum. Photo by VAwebteam at English Wikipedia under Creative Commons License 3.0
Today Royal Doulton mainly produces tableware and figurines, but also cookware, glassware, and other home accessories (see more later on about modern day popularity of Royal Doulton).
Backstamps and trademarks
1882-1901

From circa 1884, a variety of Bourne & Co, Pinder and Doulton marks are seen on earthenware and bone china that was produced at the Niles Street factory (for reference, the difference between earthenware and stoneware is that earthenware matures at lower temperatures to stoneware).
The most prevalent Doulton mark features four interlocking letter 'Ds' in a circular formation - which was also seen on later marks.
From 1886, to commemorate Doulton being appointed potters to His Royal Highness The Prince of Wales, a similar mark was used, but this time featuring a crown above.



From 1891 to 1901, the word 'England' may appear below both of these marks

1901-1922 (and 1927-c. 1936)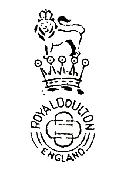 This is the 'standard' Doulton mark on Burslem earthenware and bone china, used from 1901 to 1922 and from 1928 to c. 1936.
The backstamp from those periods features the lion crown and roundel, introduced in 1901 and used in various iterations up to the 1990s.
The words 'Royal Doulton' and England feature in the standard mark between 1901 and 1922. This stamp - using the name 'Royal Doulton' rather than 'Doulton' marks the grant of the Royal Warrant to Henry Doulton by King Edward VII in 1901.

1922-1927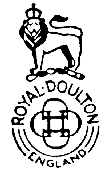 From 1922 to 1927, Royal Doulton tableware appears bearing a mark that lacks the traditional crown (aside from the one atop the lion's head).
It is not known why this new mark was implemented, however it may have been as simple as a smaller mark befitting smaller pieces.

1928 - c.1936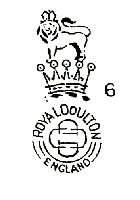 From 1928 - circa 1936, the introduction of a number was included in Royal Doulton marks, with 1 relating to 1928, 2 to 1929 and so on sequentially until the number 30 in 1957.
Circa 1930 - circa 1993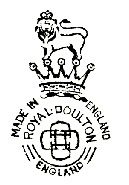 In circa 1930, the words 'Made in England' appeared for the first time above the Royal Doulton name.

1993 - 2005
In 1993 a totally new Doulton mark of a lion's head was introduced, reflecting the transition from Doulton as a Pearson Group company (which acquired Royal Doulton in 1971) to the independently listed Royal Doulton plc.


In 2005 Waterford Wedgwood completed a takeover of Royal Doulton and all brands. Royal Doulton Ltd, along with other Waterford Wedgwood companies went into administration in 2009, and subsequently Royal Doulton became part of WWRD Holdings Limited. Since that date, items were made in both Barlaston, UK and further afield in Indonesia.
More recently, in 2015, Fiskars Corporation acquired WWRD Holdings Limited, was completed including brands Waterford, Wedgwood, Royal Doulton, Royal Albert and Rogaška - making the Finnish company the current owners of Royal Doulton as a whole.
How to spot a fake Royal Doulton
There have been many cases of forgery of Royal Doulton pieces in the past and the practice continues today. Below are some top pointers on how to spot a fake:
Questionable paintwork
If it looks scruffy, or slapdash, then that's usually a good sign of an inauthentic Royal Doulton piece - as the company is renowned for its master craftsmen high quality finishes.
In addition, if the paintwork is too bright e.g. vivid royal blue as opposed to gentler shades, then you should start to question if the piece is authentic. Also lookout for paintwork inconsistencies, such as areas that are noticeably lighter than others, or look to be missing colour and patchy in appearance.
Lack of delicate decoration
In addition, look out for false 'chine' effect (where lace was placed on top of stonewhere and painted through, before the lace was burnt off in the kiln). Often fakes have decoration that isn't delicate at all - as people trying to make pieces look real will daub on the detail without using the proper method.
Check the cleanliness of the base
One of the simplest methods for spotting a fake is to check the base. If it's a fake it will likely display no signs of age at all.

Works / Pieces of note
Gorringe's often sells pieces of Royal Doulton, including in our recent fine sale where several lots went under the hammer. Most went for the estimate or very close to, with a couple of notable items far exceeding expected sale price, which were:
Lot 149 , Mark V Marshall for Doulton lambeth, a flambe bottle vase entwined by a mythical beast, c.1885, 19cm, restored.
Estimate was £200-£300. Sold for £1800.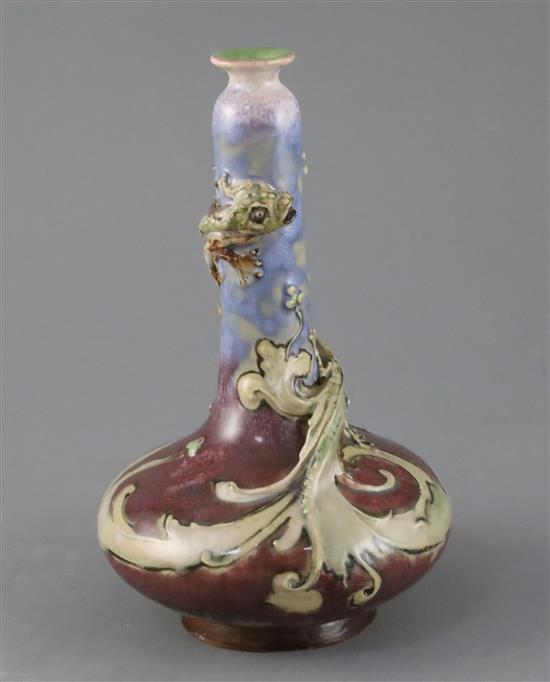 Lot 132 , Francis C. Pope for Doulton Lambeth, a tall Art Nouveau baluster vase, c.1905, 39cm
Estimate was £200-£300. Sold for £850.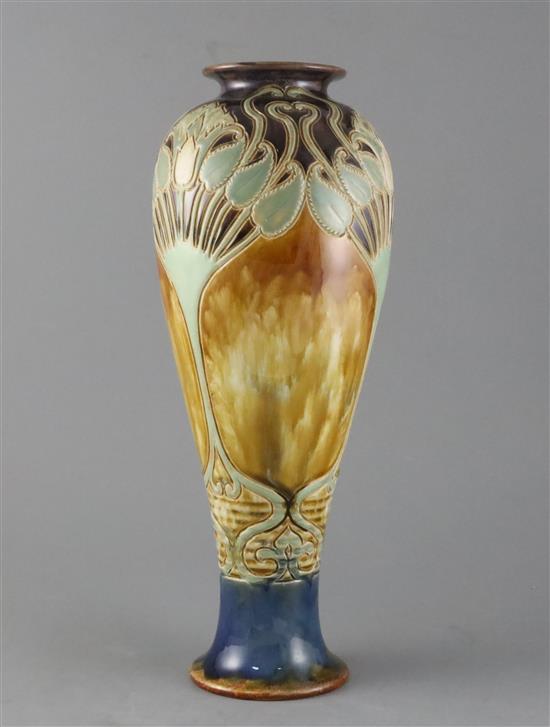 Historic and modern day popularity and the Royal Doulton 200th year celebration
One notable fan was Queen Victoria, who knighted Henry Doulton in 1887 for his services to ceramics and the advancement of ceramic art. In 1901, four years after Henry's death, Edward VII granted Doulton to add 'Royal' to their name.
In the years following, many changes have been made, yet the brand continues to focus on design innovation and working with talented design partners to create truly wonderful products.
In 2015, a collection of prestige pieces was created to celebrate 200 years of innovative and masterful design at Royal Doulton. Featuring the artistic endeavours of world-class sculptors and master painters, each of the pieces depicts a significant historic event from 1815. The collection is made up of three pieces; a remarkably detailed figure of King George III, a stunning Duke of Wellington and his favourite mount, Copenhagen at the Battle of Waterloo and finally The Lion's Mound.
Modern day Royal Doulton is inspired by the brand's London origins, echoing the culture and eclectic style of the city, appealing to design conscious consumers who want to create a relaxed home style for friends and family to enjoy social gatherings.
Royal Doulton's mission today is to create high quality, modern pieces that add enjoyment to everyday life.
Further reading