One of the most celebrated and unique glassmakers of the 20th century, Lalique has long been internationally admired for his creative vision, precision design and clarity.

Lalique was not only unique in his creativity and design, but also his desire to make his glass art for the many, by combining a huge range of useful and decorative objects with his talent for manufacturing.
Biography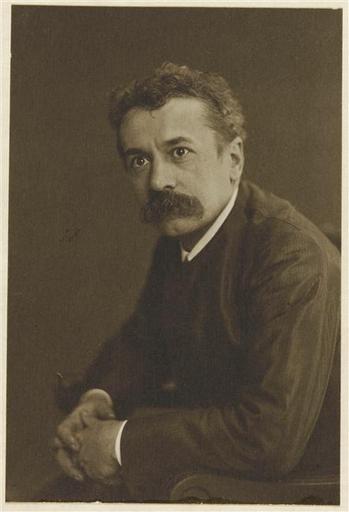 René Lalique Portrait
René Lalique was born in the Champagne region of France in 1860 where he lived up to the age of two, his family moved to the suburbs of Paris in 1862. Whilst living in Paris the family regularly spent summer holidays in Ay, these trips would be a key influenced Lalique later on in his naturalistic glasswork.
In 1872, aged twelve, René started at the Collège Turgot where he first started drawing and sketching and attended evening classes at the Ecole des arts décoratifs.
René worked at Ecole des arts décoratifs for two years from 1874–1876 and subsequently spent two years at the Crystal Palace School of Art Sydenham, London where his skills for graphic design were honed, and his naturalistic approach to art was further developed.
Throughout this period, he also practiced as an apprentice goldsmith to leading Parisian Art Nouveau jeweller and goldsmith Louis Aucoc.
Jewellery design
Following his return from England, he worked as a freelance artist where he designed pieces of jewellery for French jewellers Cartier, Boucheron, and others.
It wasn't until 1885 that he opened his own business, designing and making his own jewellery and glass pieces. In 1890 he opened a new jewellery shop in the fashionable Opera area of Paris, working and living above this new shop, he created some of his most notable jewellery designs, it was also where he increasingly experimented with the use of glass in his work.
By the mid 1890's, René Lalique was a notable figure in the world of jewellery and fashion in Paris, creating pieces for private clients, for others including Samuel Bing's Paris shop, the Maison de l'Art Nouveau (which gave Art Nouveau its name) and Calouste Sarkis Gulbenkian, who commissioned more than 140 of his works over nearly 30 years.
By the end of 1900, René Lalique was recognised as the number one jeweller of his day, and as a decorative artist that all should aspire to.
Glass maker
Towards the end Lalique's jewellery career, he increasingly experimented with glass in both his jewellery and unique objects. By 1902 Lalique was experimenting with and manufacturing glass at a country home in the village of Clairefontaine, near Paris.
By 1912 René Lalique was producing an array of 'Lalique glass' objects in addition to perfume bottles, and exhibiting successfully at the Salons in Paris.
The period up to 1920 saw a growing and increasingly varied production of René Lalique glass objects, before his glassmaking career would finish, Lalique would create an amazing array of over 1500 glass models, these included ashtrays, boxes, brooches, car mascots, clocks, decanters, decorative objects, doors, fountains, frames, glass panels, glasses and stemware, ink blotters, inkwells, knife rests, lamps, light fixtures, menus and menu holders, mirrors, necklaces, paperweights, pendants, perfume bottles, pitchers, plates and bowls, statues and plaques, tableware and vases.
René Lalique combined his design talents with his industrial ones, employing up to several hundred workers at one time to produce his useful and decorative pieces on an industrial scale, helping bring art into the lives of ordinary people.
Despite working on an industrial scale, Lalique ensured his objects remained unique and desirable by subjecting items to post manufacture touches such as enameling, patinating, frosting, and polishing.
Later life
1929 - The Côte D'azur Pullman Express Train
René Lalique was in high demand for commissions, and undertook some very large-scale interior design projects. He was chosen to undertake the decoration of the luxury French train Côte d'Azur Pullman Express carriages.
1935 - Fitting Out The Normandie Luxury Liner
The high-profile commision projects continued with work for renowned fashion designer Madeleine Vionnet, glass doors for Prince Yasuhiko Asaka's home, the fountain at the Galerie des Champs-Elysées and he designed lighting columns and chandeliers in the vast first-class dining room of the luxury liner Normandie (below).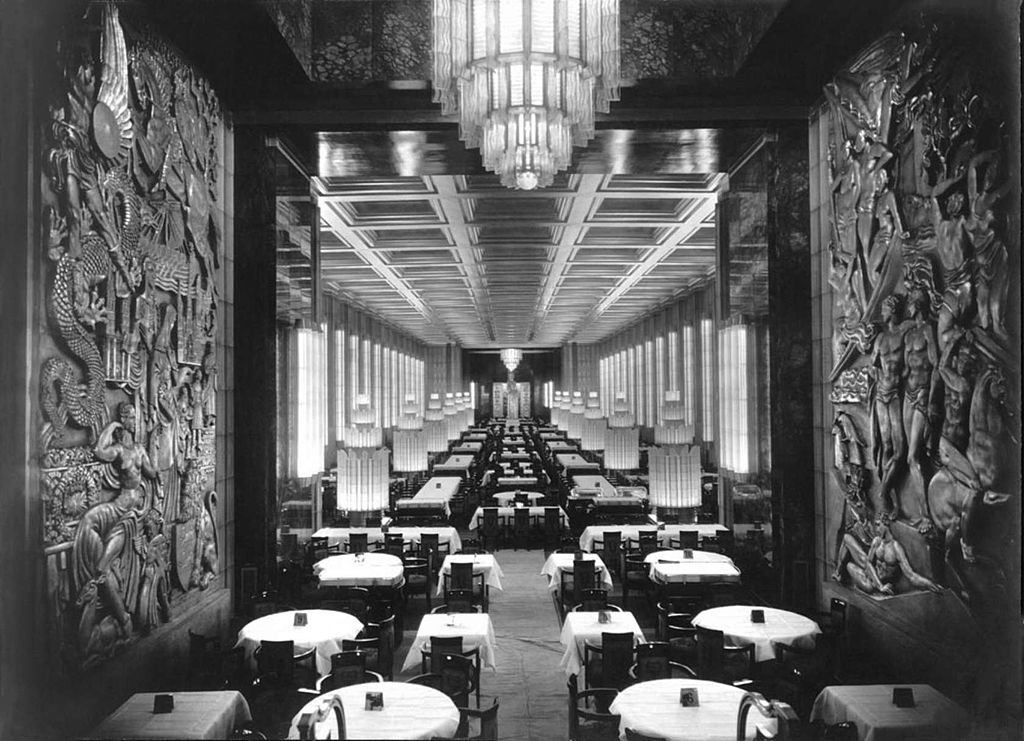 Lalique on the SS Normandie
1935 was also the year in which René Lalique opened the Lalique shop at 11 Rue Royale in Paris.
1945 - Death Of René Lalique
René Lalique died 1 May 1945 aged 85. His son Marc took over as head of the business where he was to bring Lalique into the age of crystal.
How to spot a fake Lalique piece:
As with many sought after designers, fake pieces are not uncommon. The majority of fakes tend to be frosted glass pieces made in the Lalique style, with a fake signature etched in. Another test of an authentic Lalique is, through a simple web search, you should be able to find multiple examples of each piece, due to Lalique's manufacturing process.
Another important factor to remember when looking for a genuine Lalique is the subtlety of the markings which are often hidden within the piece and the importance of the letter R - After Rene Laliques's death in 1945 no Lalique pieces featured the first initial of his name, they instead were most often marked 'Lalique France'.
Prior to Rene Lalique's death (before 1945)
Signatures should be small, rarely over 3mm
Signatures lacks decorative or fancy lettering
Marks were not acid etched
Marks should be in harder to see areas like the bottom rim, or within the design (as shown in the picture below)
After Rene Lalique's death (after 1945)
No "R", the R was dropped and most pieces were signed "Lalique, France"
The word France always appears post 1945
All acid etched marks were all uppercase and not cursive
Lalique pieces will NEVER have the following marks or characteristics:
Made in France, Paris, Rene spelled out
Pieces are not numbered such as in a limited edition
There should never be mold seams
Works / Pieces of note
We regularly sell Lalique and it's always a firm favourite with our buyers from around the world, some examples include a wide range of Lalique Mascots - the highest hammer value of which were two lots, which sold for £4,800 each. These were:
The Vitesse/Speed Goddess. A glass mascot by René Lalique, introduced on 17/9/1929, No.1160 Height overall 20.5cm)
Victoire/Victory or Spirit of the Wind. A glass mascot by René Lalique, introduced on 18/4/1928, No.1147 Height 13.8cm.
Another highlight (pictured below) was an extremely important Portrait of René Lalique by his artist daughter Suzanne Lalique (1892-1989) 26 x 32in. That lot fetched £18,000 on the day!
Popularity/trends and pieces to look out for
As well as an exceptional artist, Lalique was an astute industrialist and salesman, taking full advantage of everything his era offered in order to sell a vast quantity of pieces internationally. Lalique also designed a huge variety of pieces meaning someone interested in starting a Lalique collection should find pieces in no short supply.
Lalique pieces are still hugely popular to this day, as shown by recent sales at Gorringe's auctions, with Lalique items often fetching thousands or even tens of thousands of pounds.
Both unique and commercial works of René Lalique are in the collections of a large number of public museums around the world including the Museu Calouste Gulbenkian in Lisbon, the Lalique museum of Hakone in Japan, the Musée Lalique (France) and the Musée des Arts Décoratifs in France, the Schmuckmuseum Pforzheim in Germany, the Victoria and Albert Museum in London, the Metropolitan Museum and the Corning Museum in New York State and the Rijksmuseum in Amsterdam.
Further reading