Biography
Charles Ormond Eames, Jr (1907–1978) and Bernice Alexandra "Ray" Kaiser Eames (1912–1988) made a substantial impact on the progression of furniture design and architecture.
One of the most iconic designs of the husband and wife team is the Eames Lounge Chair.
From the beginning, Eames furniture was usually listed as being by Charles Eames. In the 1948 and 1952 Herman Miller bound catalogues, only Charles' name is listed, but it has become clear that Ray was deeply involved and was an equal partner with her husband in many projects. Charles was consistently advocating that Ray was his equal.

History
In 1940, Charles Eames joined the Cranbrook Academy of Art, arriving on an industrial design fellowship as recommended by Eliel Saarinen (A Finnish-American architect known for his work with art nouveau buildings in the early years of the 20th century). The Academy is where Charles met his future wife, Ray, who had enrolled in various courses to expand upon her previous education in abstract painting in New York City.
During his time at the Academy, Charles entered into a furniture competition - hosted by The Museum of Modern Art - with his friend Eero Saarinen (the son of Eliel Saarinen). The Organic Chair was devised out of this competition, where Eames and Saarinen's objective was to design a chair molded from a single piece of plywood.
While the chair did secure first place, its form was such that producing it on a mass scale would have proved impossible, due to the tooling for crafting a chair from a single piece of wood not having been invented yet. The chair was also noteworthy however as it was the first collaboration between Charles and Ray, as Ray stepped in and assisted with the graphic design for the piece.
A year later, in 1941, Charles and Ray got married and moved to Los Angeles California, eventually finding a workspace suitable for their production needs in Venice, California.

Materials and the war effort
Early Use of Plywood
In light of a need for improved medical transport splints during World War 2, Eames developed a new solution for leg splints for injured soldiers. Built from wood veneers and bonded together with resin glue, the splints were stuck together through a process of pressure and heat.
These plywood splints were the ideal alternative to metal splints, which had the unfortunate side effect of inducing gangrene because of the way they blocked the flow of blood in the leg.
The US Navy investment in these splints was crucial for the future of Eames, as the additional funds meant they could develop furniture designs more rapidly through mass production.

A timeline of furniture design
Eames used Washington Boulevard as a hub for its manufacturing until the 1950s. A multitude of influential furniture designs and innovative creations have their origins there, including:
1945: Molded-plywood DCW (Dining Chair Wood) and DCM (Dining Chair Metal with a plywood seat)
1956: Eames Lounge Chair
1957: The Solar Do-Nothing Machine. This was an early solar energy experiment for the Aluminum Corporation of America, and a number of toys.
1958: The Aluminum Group furniture
1968: The Eames Chaise
In 1958, Herman Miller officially relocated the tooling and resources for the mass production of Eames designs to its headquarters in Zeeland, Michigan in 1958. Herman Miller, along with their European counterpart Vitra, remain the only licensed manufacturers of Eames furnitures and products today.

Furniture examples and innovation in furniture design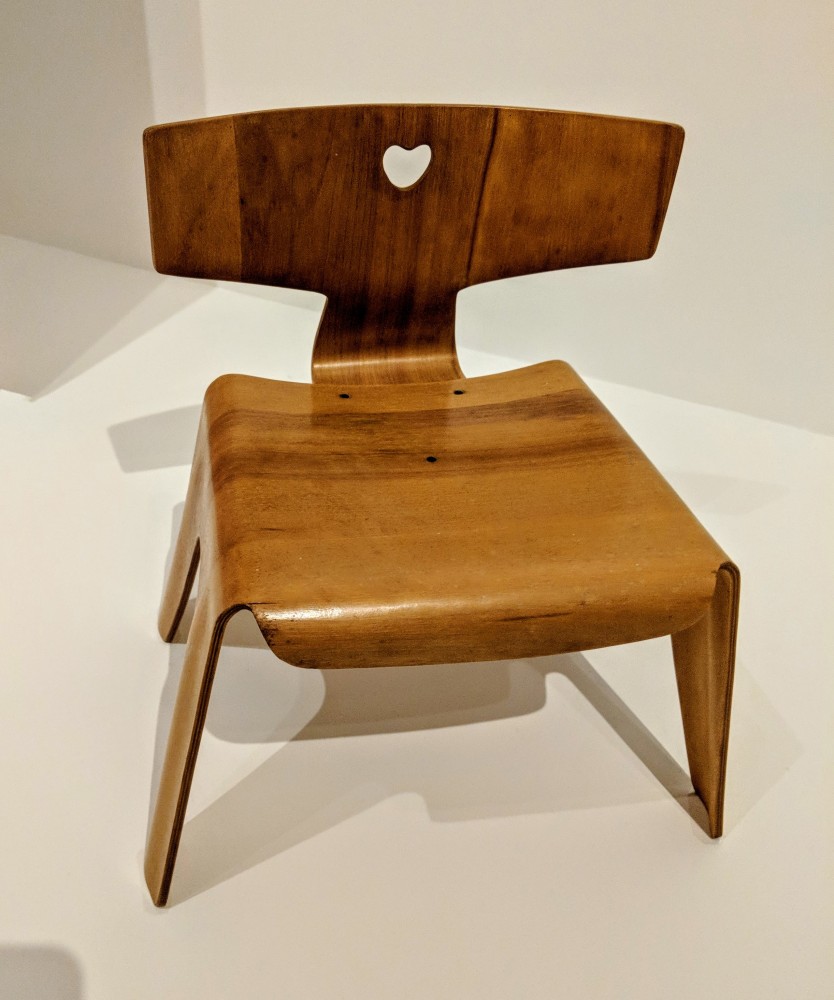 Eames stacking chair for children
Eames stacking chair for children, on display at the Oakland Museum of California, 2018.

Eames as a company were always innovators and pioneers of technology. This included the use of fibreglass for mass produced furniture, just as they had done with their earlier molded plywood work.

In August 2005, Maharam fabrics reissued Eames designed fabrics; Sea Things (1947) pattern and Dot Pattern. The Eames fabrics were designed solely by Ray. Dot Pattern was created for The Museum of Modern Art's 'Competition for Printed Fabrics' in 1947.

In 1979, the Royal Institute of British Architects awarded Charles and Ray with the Royal Gold Medal. At the time of Charles' death, they were working on what became their last production, the Eames Sofa, which went into production thanks to Ray's efforts, in 1984.

Eames sold at Gorringe's
We have sold a number of Eames Lots over the years at Gorringe's, with examples below - so it's always worth keeping an eye on our upcoming sales to pick up one of the collections for yourself.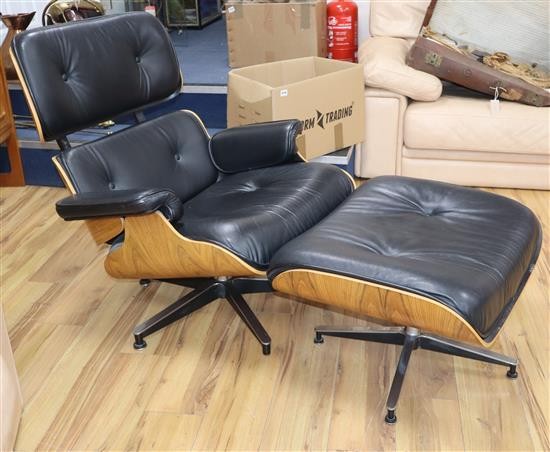 An Eames-style black leather armchair and footstool

An Eames-style black leather armchair and footstool. Sold for £360.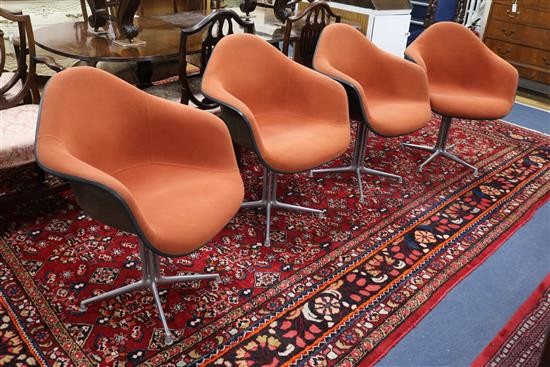 A set of 4 1960s la Fonda chairs designed by Charles and Ray Eames for Herman Miller
A set of four 1960s La Fonda chairs, designed by Charles and Ray Eames for Herman Miller. Sold for £360.
Further reading