Whether you love or hate the designs of Clarice Cliff, she is undoubtedly one of the UK's best known ceramic artists.
Best known for her colourful and uniquely innovative creations, Clarice Cliff is so influential that her work is still highly collectable and sought after to this day.
Biography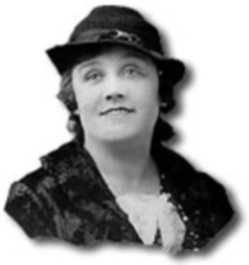 Image source: Wiki Creative Commons by user JCharig. License: Public Domain.
Clarice Cliff was born on January 20th 1899 in Tunstall, Stoke-on-Trent.
At the age of 13, she started working in 'The Potteries', before moving to AJ Wilkinson's pottery factory in 1916.
She attended Burslem School of Art between 1924 and 1925, taking evening lessons in drawing and went on to study sculpture at the Royal College of Art in 1927. She soon returned to setup a studio at the Newport Pottery owned by Wilkinson's - from which the now famous 'Bizarre Ware' was launched - following a market testing in 1927-28 where Wilkinson's sales team were astonished by the 'boldness of Cliff's designs' - remarking at how well they sold.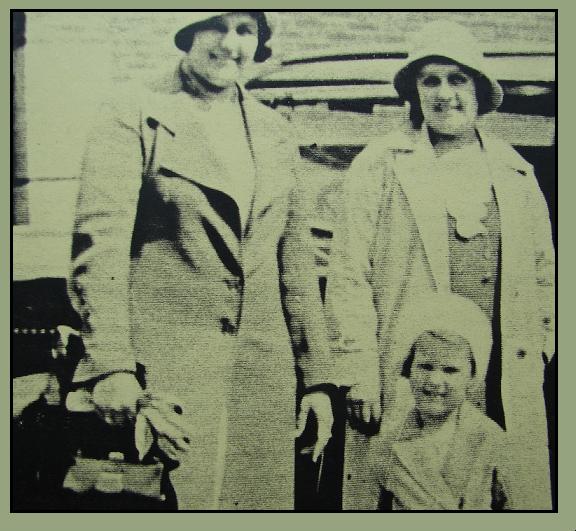 Clarice Cliff (right) with guests at the Newport Pottery in 1933. Image source: Wiki Creative Commons. By user Leonard Griffin under Creative Commons license 3.0.
'Bizzare' ceramics stamped with her own name
'Bizarre' ceramics were decorated with vivid, bright colours and were an immediate success, as the designs – with their abstract, geometric and figural forms – were in the popular Art Deco style and inexpensive. In the following years, Cliff added hundreds of patterns to the original range.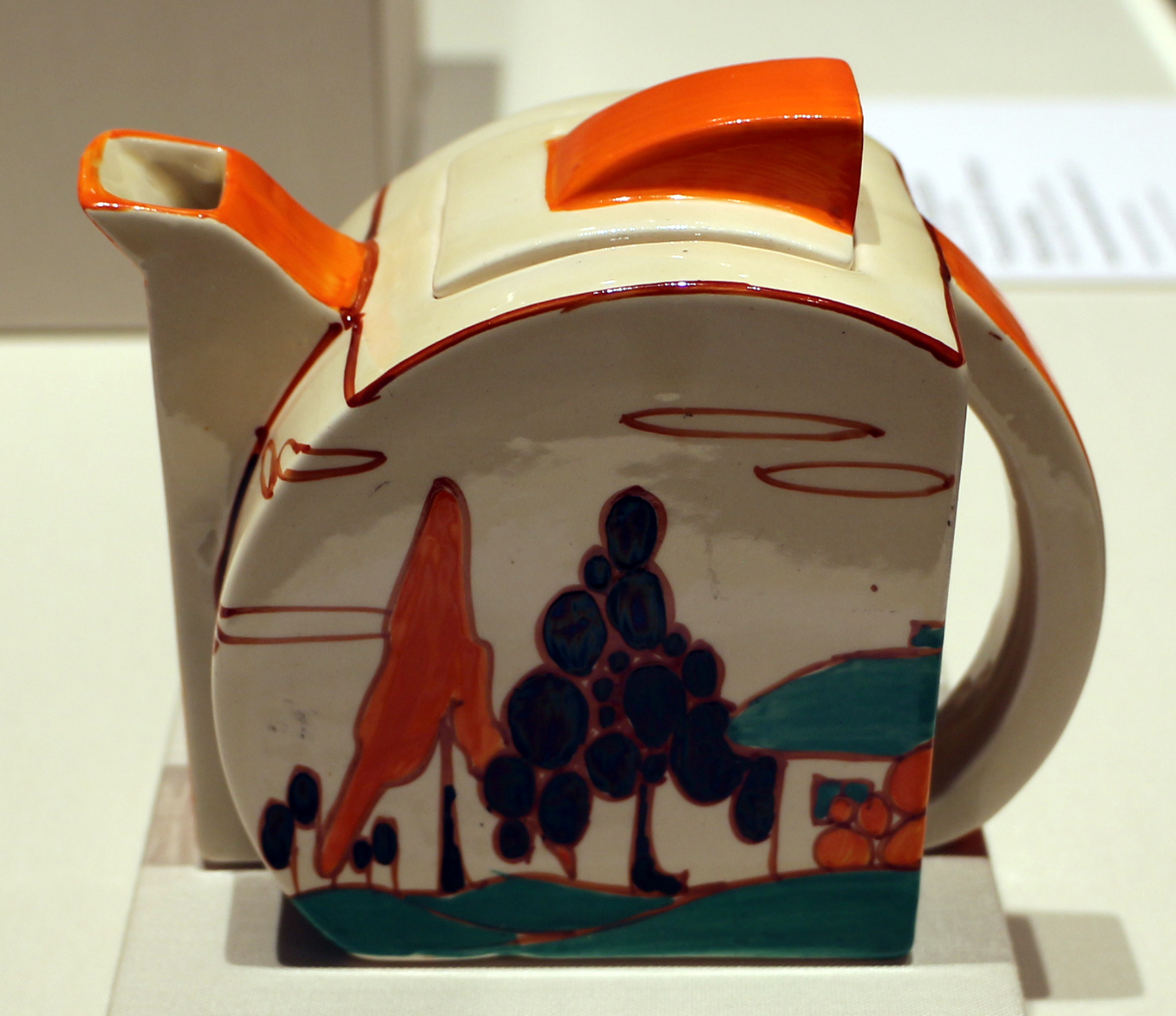 Image source:Wiki Creative Commons by user Saliko under creative commons license 3.0
Clarice Cliff had an ethos central to all of her creations - to produce designs that could be used at home - from vases to dinner plates, through to tea and coffee sets. Equally important to her was giving women access to bright, colourful and interesting items for everyday use.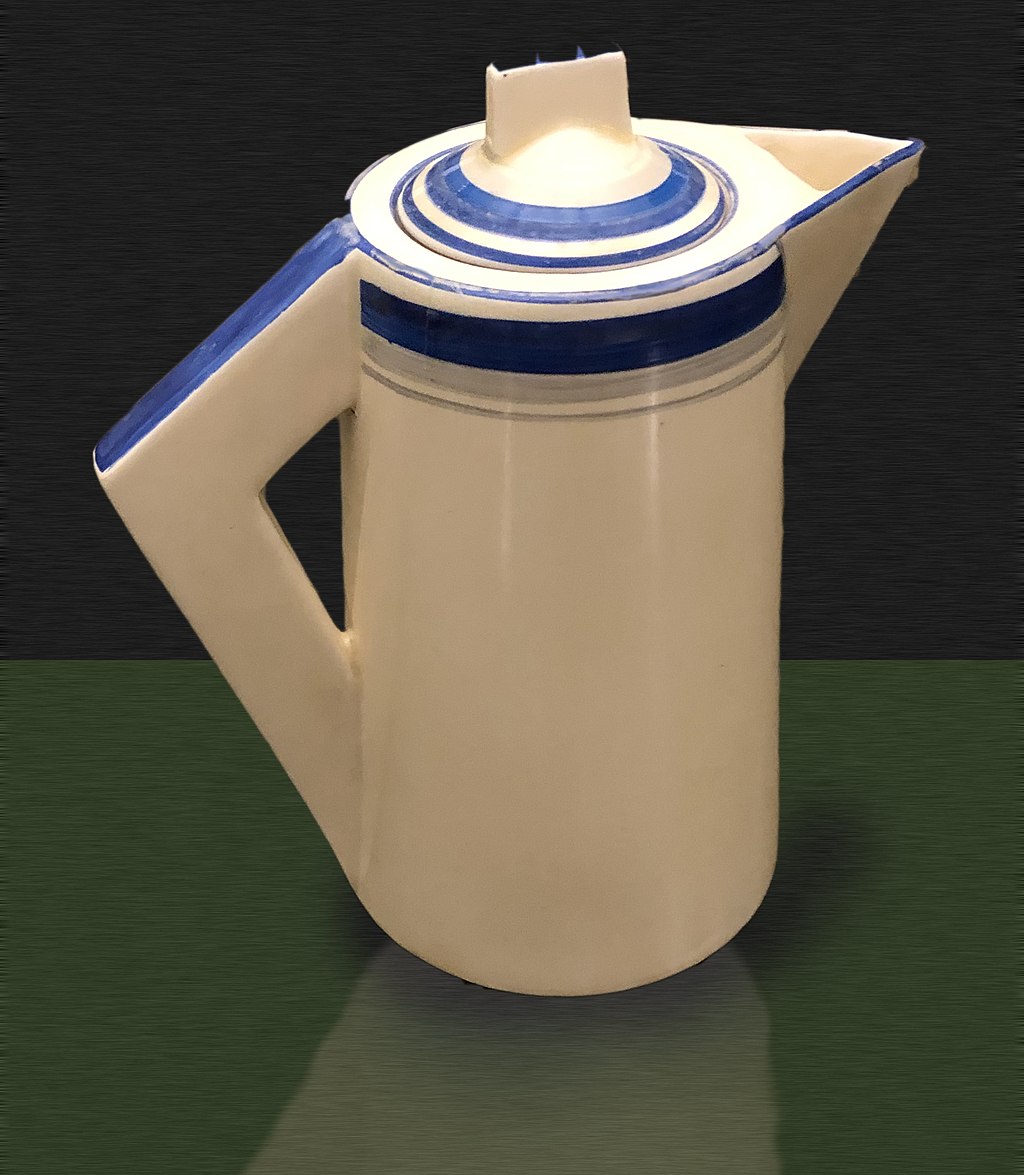 Image source: Wiki Creative Commons by user Nhybgtvfrcdexswzaq under creative commons license 3.0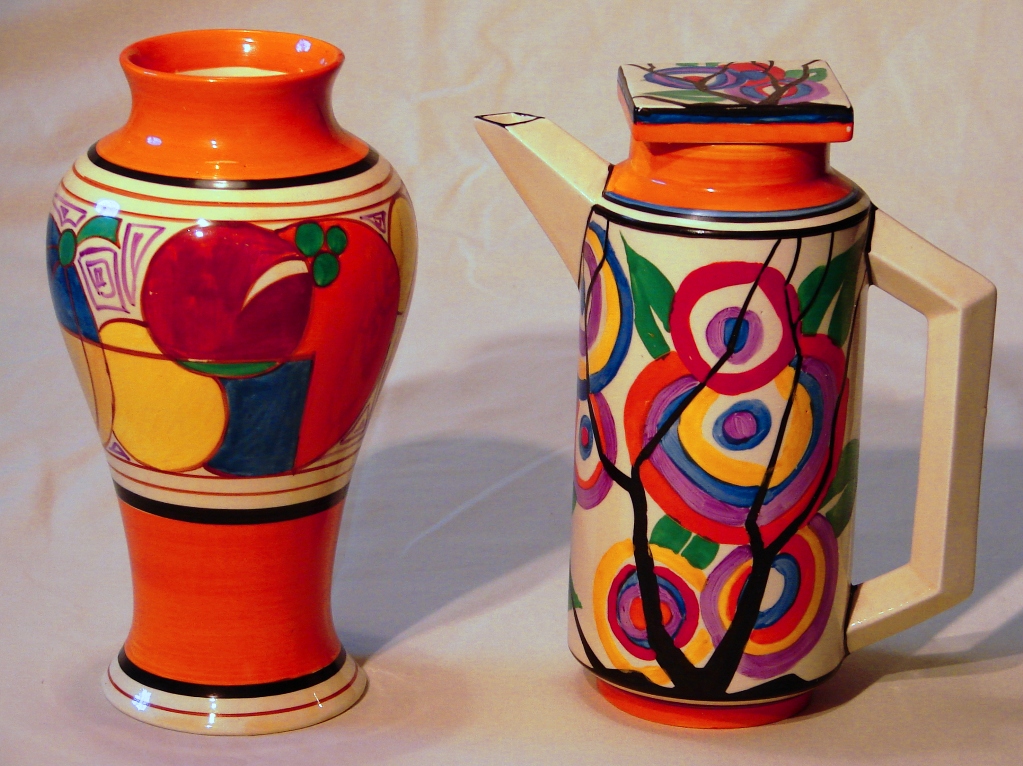 Image source: Wiki Creative Commons. By user Leonard Griffin. Public domain free from copyright.
Clarice Cliff was a groundbreaking designer - not least for being one of the first females to put her own name to a range of ceramics. While it is commonplace these days for designers - especially in other industries such as fashion - to launch ranges under their name, at the time in 1920s Britain, Cliff's eponymous collection was truly innovative.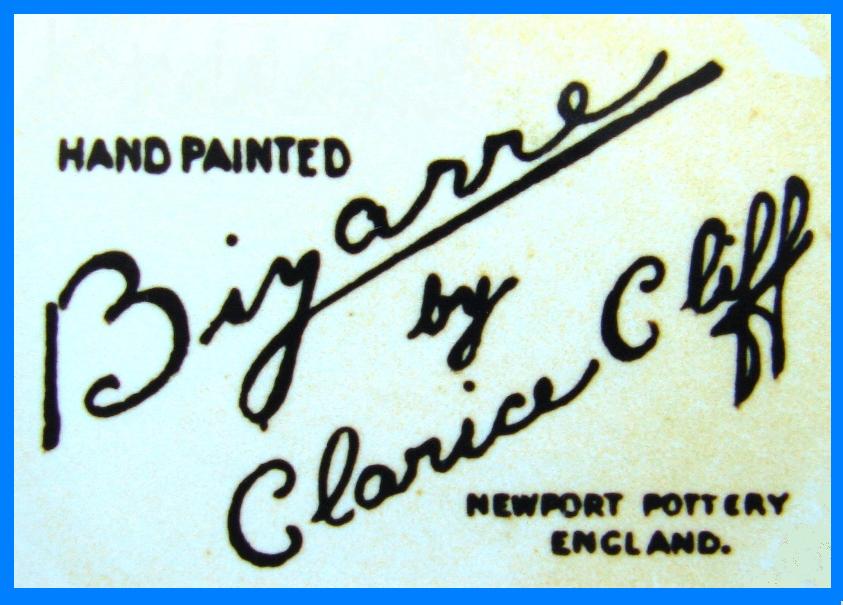 Image source: Wiki Commons by user Leonard Griffin - Licence: Public Domain
Later life - timeline
In 1940, Clarice Cliff married her then boss, Colley Shorter, moving with him to Chetwynd House
The factory continued to produce pottery bearing Clarice's name until 1964
Following Colley Shorter's death, Clarice sells the factory to Midwinter's and retires to Chetwynd House
The first Clarice Cliff exhibition takes place at Brighton in 1972 and Clarice provides comments for the catalogue
Clarice Cliff dies suddenly at Chetwynd House on 23rd October 1972
1999 sees Clarice celebrated Worldwide in Clarice's Centenary year
Clarice Cliff is best known for her innovative, colourful designs, many of which are often seen in our sales. The Art Deco movement had a major influence on her work and her commercial success.
There are over 2,000 variations of Clarice Cliff pieces, so being able to spot a real one from a fake is crucial.
Look out for the following:
High contrast geometric designs and vivid bold colour palettes
Commonly designed in Art-Deco style
Look underneath the item and check the backstamp to make sure it's an official item. To help you, use the following resource: https://www.claricecliff.com/works/backstamps
Genuine Clarice Cliff pieces have the name of the design, are dated and include her signature
How to spot a fake Clarice Cliff:
Look out for slapdash paintwork
Counterfeit items might feel too light or heavy
Priced too low - if it seems too good to be true, it probably is
For further information and guidance about how to spot a fake, give this Antiques Roadshow article a read.
Works / Pieces of note
The world record price fetched for a piece of Clarice Cliff was for a May Avenue pattern 18-inch 'charger' (wall plaque), which sold in 2004 for £34,000.
You can explore further Clarice Cliff pieces by taking a look at Gorringe's past sales of Clarice Cliff lots: https://www.gorringes.co.uk/search/pastlots/Clarice
Pieces to look out for?
Look out for Clarice Cliff items at specialist antiques auction houses and on online auction sites, like Gorringe's. There's also a number of items that crop up on more generic auction sites, such as eBay - but be sure to check the items are genuine if buying privately - using our handy guide to spotting copies and fakes, above.
Popularity/trends
Clarice's Centenary was in 1999, but her popularity continued to rise - even attracting the attention of celebrity investors, such as Vogue editor, Anna Wintour, and actress, Whoopi Goldberg.
In the first auction after Centenary year, her pottery had not only maintained its high prices, but suddenly achieved new record prices. Lotus jugs, one of her most available shapes, were sold for £7,000-£8,000 in standard designs. An Age of Jazz figure sold for made £15,000 at an auction in Salisbury in 2018.
Further reading
Clarice Cliff for Collectors, by Greg Slater.
Fantastic Flowers of Clarice Cliff, by Leonard Griffin